Looking for a Sandpoint personal training?
Even better, experienced Sandpoint personal training sessions?  I have been a personal trainer for 25 years.  At Missi Balison Fitness studio in Sandpoint my goal is to teach you how to make the changes  to enable you to live a fuller, happier, healthier and more productive life.
As a Certified Medical Exercise Specialist, a Behavior Change Specialist, a Certified Precision Nutrition Coach, and a Licensed Massage Therapist  I truly believe that knowledge is power and when my clients learn new skills and techniques they can now take charge of their own health.
You won't train here without learning a ton of new information not only about your body but about yourself.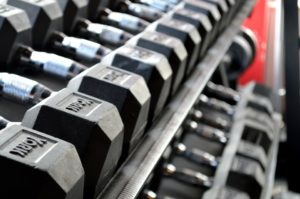 Private Training*
Private training is just that…private.  We will meet one to one and we can establish a plan that will work for you and your lifestyle.  Your fitness and nutrition plan will meet you where you are today and grow as you grow.  In most cases I request that you schedule one private session before joining a group so I can get to know you, your body and any specific goals or limitations you may have.  Private sessions are perfect for you if you have a particular medical or physical condition that will require extra focus, or you want my undivided attention.  Some people like to join in with groups and have their own private session once a week for the best of both worlds.
Cost:
Private Session Fee: $35 per 60 minute session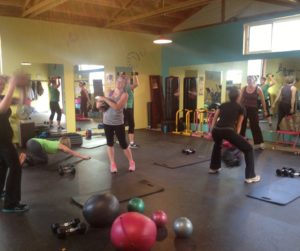 Group Personal Training*
Group personal training is so much fun you might not even realize you're working out! (My current clients are laughing out loud at this!;).  The camaraderie make the session time fly by with lots of laughs and even more sweat.  You can create your own group or join one of the existing groups and meet new friends.  One of my favorite things about this Sandpoint gym is the way my clients interact in and out of the gym.  It is truly a small community.  Typically 6 people is the most you will find in any group session.
Cost:
Group training 2x week = $108/month
Group training 3x week = $162/month
* Each client must schedule one private session before joining a group to allow me the opportunity to get to know you, your body and the approach that will work best with you.
Group Sessions
Group session times may vary depending on participants signed up for the session.  3 person minimum requirement to qualify for group rates. If you have friends that want to form a group we can add a new session time just for you!
The times listed below show available session times – Winter 2017
Group sessions may change
Please call to get scheduled for these sessions.  290-2081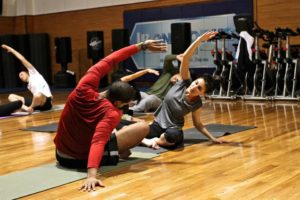 Client Perks
I believe personal training is about much more than the 2 or 3 hours you'll spend with me in the gym each week.  It is my mission to help my clients achieve the results they want in as many avenues as possible.  I truly believe that knowledge inspires motivation and the more we know, the better we do.  I have many perks to offer my clients:
Here's what people are saying…
Before Missi's class I would have felt inadequate and unsure of what I was doing in there but now I felt like I had a plan and I was working my plan. It didn't matter what anyone else in the fitness center was doing–confidence feels good!
Missi!! She is very informative, encouraging and hands on. I really enjoyed working with her.
Want More Than Just A Few Sessions A Week?
I offer "Hybrid" packages that combine the best of both worlds. You can come to the studio for your weekly sessions and camaraderie but get additional workouts to do at home with my online training App.