Recommended Products & Equipment
Fitness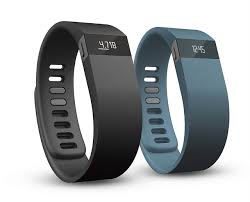 Fitbit designs products that track everyday health and fitness, empowering and inspiring people to lead healthy, more active lives. Fitbit products continuously sync your stats to your computer and smartphone. Use online graphs, charts and badges to track your progress. I love the fact that you can challenge friends and family. Fitbit gives you the tools and motivation you need to reach your daily and long-term goals. It even tracks your sleep patterns and they can be quite affordable with some models coming in at $69.95
---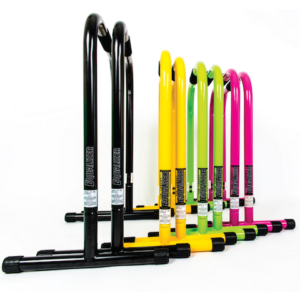 Lebert Equalizer is a simple, portable and versatile piece of equipment for a full body workout. Simplify your exercise routine with the Lebert Equalizer, the total body strengthener that works arms, chest, back and core muscles like no other piece of exercise. Lebert is so great that they have offered a discount code if you purchase directly from my link
Use code:  LFI20 for $20 off Lebert Fitness Equalizers including the XL and the Lebert Fitness Buddy System.
---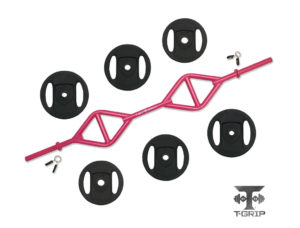 The T-Grip Lite Barbell is a staple in my studio. The variety of grip positions allows you to perform a larger array of exercises than the typical weighted bar.  You can use the rubber plates on their own as weights for the smaller muscle group exercises such as Bicep curls, Triceps press backs and shoulder front raises.
---
Superband Exercise Band: 1 3/4 in. Black
 Superbands are extra-strong, long resistance bands designed for heavy duty use. Effective for both upper and lower body training. Use Superbands for assisted chin-ups and dips.
---
Professional Exercise Tubing with Handles: Level 3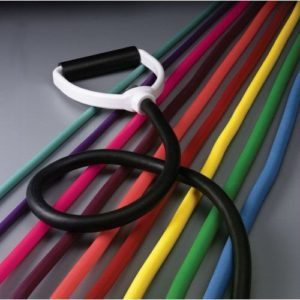 Great for all pushing and pulling exercises. Level 1 tubing offers least resistance, Level 10 offers most. Includes 5′ Tubing with hard plastic swivel handles, door anchor and exercise poster. Durable. 1 Year Warranty.
---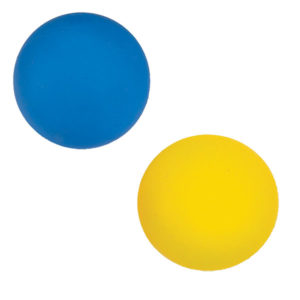 The Lacrosse Ball Self Massage Tool is a firm rubber ball that is great for myofascial release. Target tightness in your muscles, tendons and ligaments and release by rolling over those areas. Perfect for use on your chest, shoulders, upper back, glutes, hamstrings and feet. Lightweight and portable. Measures 2 1/2 inches in diameter.
---
PB Extreme Soft Toss Medicine Ball: 16lb.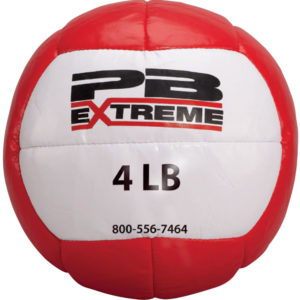 Easy to catch, throw and slam. Soft shell construction keeps its shape and maintains weight balance.
---
First Place Ultra Speed Rope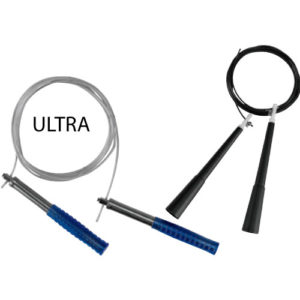 – Jumping rope is and amazing workout but there are few things more frustrating than when your rope gets all twisty in the middle of an epic skipping set  Try this  "no twist" speed rope to keep you rhythm in tact!
---
PB Extreme Weight Vest: Extra Weights: (20) 0.5 lb.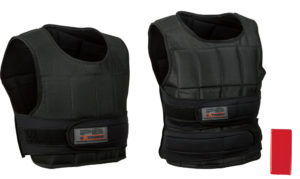 PB Extreme Weight vests are adjustable weighted vests that are great for adding additional load to your exercises. Neoprene coated steel weights are 0.5 lb. each and are easy to take in and out of the vests to change weight. 10.lb. vests can hold up to 20 lbs. of weights; 20 lb. vests can hold up to 40 lbs. of weight. Vests are machine washable. Velcro closure keeps the vest snug and tight. One size fits all.
---
Ultimate Sandbag: Power Package (Black)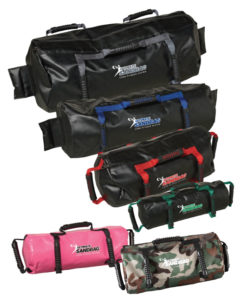 The Ultimate Sandbag has a closure system in the outer shell with both zippers and snaps to ensure filler bags are secure. Filler bags provide an easy and clean way to adjust the weight of the sandbag. Handle options are great for mixing up grips. Sand not included. Each Ultimate Sandbag comes complete with a training DVD, booklet and wall poster to help you get started with sandbag training. The Power Package features a 19in. x 9in. outer shell with (2) 15 Lb. inner sand bags.
---
Neoprene Dumbbells: 15 lbs. (Pair)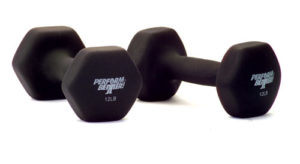 Sold in pairs. Will not chip or damage floors. Hexagon shape. 3 year guarantee.
Nutrition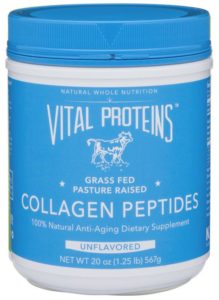 Vital Proteins Collagen Peptides
Vital Proteins Collagen Peptides are sourced from grass-fed, pasture-raised bovine hides to ensure a natural, high quality, and sustainable source of this ancient nutrient.
Bioavailable: digested and absorbed by the body quickly for maximum benefits.
Beneficial: improves hair, skin, nails and joints, ligaments, tendons.
Easy to use: soluble in hot or cold liquids, including coffee, smoothies and baked goods.
---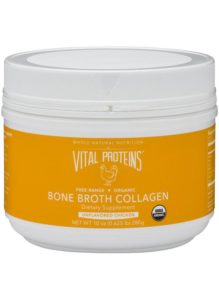 Vital Proteins Bone Broth Collagen is the first USDA Organic bone broth powder and is Whole30 Approved, MSG free, and low in sodium. Supplementing our diet to ensure that our bodies are enriched with collagen is an important key to good health and a full life. Use in a variety of recipes:
Stir into hot water, tea, or other savory beverages
Mix with stews, soups, or sauces
Add into recipes for entrees
---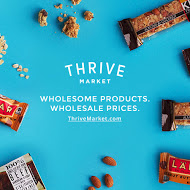 Thrive Market is an easy and affordable way to get the best
nutritional products.  Think Whole Foods meets Costco meets Amazon!  Healthy food + cost effective + delivered right to your door = THRIVE MARKET.  Genius.
For a small annual fee Thrive Market will help keep consistency in your clean eating
Check out Thrive Market HERE
---
Bistro at home is a meal del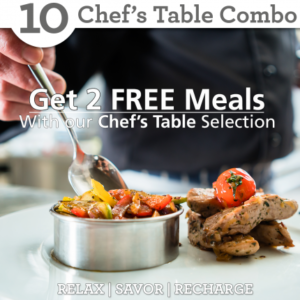 ivery service that many of my clients have raved about!  Choose from a selection of chef prepared meals. Healthy, delicious meals are flash frozen and delivered right to your door.  Choose your size, choose your meals.  This service is literally heat and eat!  Perfect for those busy weeknights when you want to eat well but know you won't have the time to cook a nutritious meal! Check out Bistro at Home HERE
---
Getting kids to
eat healthy can be a struggle but…Have you heard of Healthy Kids?  Healthy Kids Inc. is an innovative meal planning tool designed to make the entire healthy eating process fail proof, including a Professional Chef's "how to" cooking video to accompany each meal, a drag-n-drop meal plan calendar that allows families to meal plan based on their busy schedules, and a customized shopping list that populates in seconds, so that skills and time are no longer an obstacle for busy moms. Click HERE to get Healthy Kids
---
When you get your Meal prep dialed in you'll need a convenient way to take it with you!
Isolator Fitness makes meal prep thermals and containers to solve your clean eating on the go problems.  Isolator Fitness makes the best performing meal prep bags, lunch coolers in the world!  Get yours HERE
Join the newsletter
Subscribe to get our latest content by email.