Is Now The Best Time To Detox?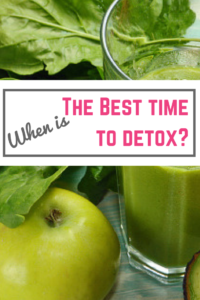 There are many ways and times  to detox your body but knowing when to detox is important to make sure you get the most out of your efforts.
Ready for Part 4 in this series on detoxing? Let's dive in…Oh, wait, If you haven't read the other posts about detox you can find them here:
Want to learn more about detoxing the body?  Check out the other blog posts in this series:
Part 1: How to detox: What, Why & Mindset
Part 2: Quick Tips To Bounce Back After Binge A Eating Weekend
Part 3: 6 signs you need a detox
Every year as the seasons change we naturally cycle through patterns, phases and through stages of transition.  If you've ever watched those fast forward videos of a flower blooming or a tree growing you know that nothing stands still and nothing stays in it's current state, even though it feels like that as you're getting through a long week.
http://www.missibalisonfitness.com/wp-content/uploads/2016/05/miss-balison-logo-1.png
0
0
Missi Balison
http://www.missibalisonfitness.com/wp-content/uploads/2016/05/miss-balison-logo-1.png
Missi Balison
2017-04-22 11:11:23
2017-04-22 11:11:23
Best Time To Detox - Choosing the right season can make a difference